Meet The Honey: Andreja Osterc
It was a rainy night in Bali (monsoon season), December 2016, and my friends and I were walking high and low down the streets of Seminyak to try and get a taxi. My least favorite adventure on the island (and yes, it definitely is a hassle of an adventure...). We were done from a night of clubbing, got ourselves a midnight snack at Pit-Stop (also known as burgers made from heaven, IMO) and were ready to roll out. But all the taxis were either occupied or nowhere to be found, and we kind of felt hopeless and stranded. Until three angels offered us a ride back to Canggu, where we were all staying. Those angels were the lovely Andreja, her boyfriend Leon, and their friend Marc. We each hopped on the back of their scooters and rode into the sunset... Kidding, they kindly dropped us home and we continued to hang out a few more times during our stay there. I was immediately inspired by Andreja, who packed up her stuff at home, leaving behind security, and decided to take on (Southeast) Asia together with Leon. With no return ticket set and a positive attitude in the pocket. Read all about this HONey's journey, and who knows, you might be inspired to set sail on your own adventure as well!
Tell us a bit about yourself
Raised in an American/ Slovenian household, I have lived part of my childhood in the US and most of it in Slovenia. I guess I have always been prone to travelling and not wanting to stay in one place very long. As a kid, the most exciting part of flying was the take-off part. I was probably the only one that felt that way, still, am. (haha). I just love the adrenalin and the changing of environments in such a short time.
Why did you choose to travel through Asia, and how long has it been?
Uff... It's kind of a long and twisted story but I will try to keep it short. My partner and I went to Asia, specifically Singapore, to get a more rewarding job by experiencing the Asian side of doing business. I worked on smaller branding developing projects but still hustled for the 'big' companies. But was unsuccessful in the end. And suddenly, we had no idea what to do next. Then we looked for the closest beach around to brainstorm our next step. Money was running low as well. So we went to Bali to figure things out. The one thing we knew, we did not want to go back home and that the corporate world just didn't fit our nomadic characters. We realized that we wanted to be financially more independent and not dependant on location. Thus, becoming a digital nomad boss who can travel and work from one country to the next was the ultimate life goal. More big questions sequenced next: How the hell can we do that?! (haha) I needed a job that would support my travels. A friend of mine just started working for this Chinese online teaching startup VIPKID, and recommended it to me. Of course, I took the opportunity right away, and applied, as the only requirements were a laptop, good internet connection, and that you are North American. It has sponsored all my trips for almost 2 years now.
What has this experience taught you thus far?
It has taught me a lot. In all different aspects, economic, cultural, and personal. It has also taught me to be patient and enjoy the little things in life.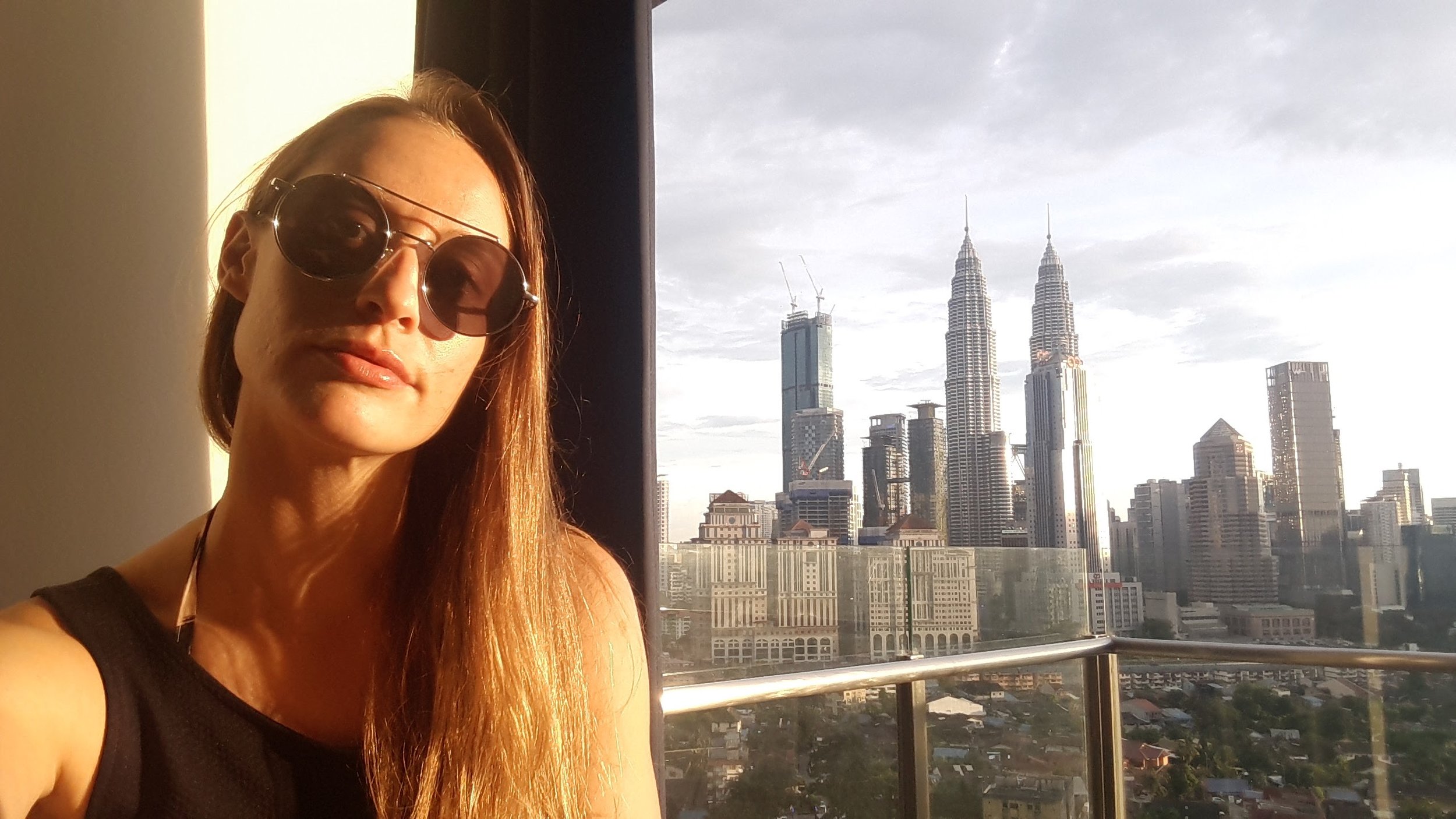 What moment during this journey will you never forget?
Ah, there are so many beautiful and shocking moments I will never forget (haha). Maybe our last trip driving across Nusa Penida on a dirt bike will definitely be the most memorable and painful one at the same time. Most of the gorgeous sights on the island are remote, and the roads to get there are very bad and sometimes perilous. Think gravel, rocks, and cliffs, ditches and many holes, and a dirt bike with 2 people. Definitely more pleasant than a normal scooter I would say, and more adventurous. And once you get to the sights you will still have to do quite a bit of hiking as well, down some sketchy stairs or narrow paths. But it was worth the pain and anxiety at the end when we got to see the amazing views!
Have you had any fears during your travels?
Surprisingly not. I managed to adapt pretty quickly wherever we lived. Asia to me is quite safe and people are very friendly.
In one sentence, tell us what you love about travelling.
I love the element of surprise, different languages, and the people you meet from all over the world.
Describe what a day looks like for you? (how you combine work and travel)
I teach English online so my schedule is fixed for the whole week in the afternoons, which gives me time during the day to travel around. We have lived in 5 countries in Asia so far. We normally choose our next destination quite randomly. But we try to stay in each destination for at least 3 months and make shorter trips around from one base. You are really able to integrate more into the environment and learn a lot more about the culture this way than just passing through. It also gives you more freedom, not having to rush through every destination. And carrying all of your luggage with you can be quite annoying. We like to take our time and explore.
Name 3 of your favorite places (to eat, hang, sleep etc.) in Bali and 3 of your favorite places in Taiwan:
In Bali, definitely Canggu!
Favorite places to eat: Satu Satu, Pelaton, Cinta cafe, NOOK, Segara pool and kitchen
Favorite places to hang: Koi hotel rooftop, La Brisa
Favorite palces to stay: We usually stay in a guest house. The last one was Rafara Guest House, hosted by a local rock star and his sweet family. If you travel with more friends it is definitely a good choice to rent a villa, it is quite affordable. There are many to choose from around Berawa. That is where we normally stay. It is a more chillout surf town but still close to the hustle and bustle of Seminyak if you need to go crazy.
In Taiwan, I love their capitol Taipei!
Favorite places to eat: Herban kitchen, Huashan Creative Park, Mala Hot Pot (all you can eat and drink) are a few nice places to eat. But if you are in Taipei I would definitely recommend going to the night markets. There are so many vendors there offering delicious eats at an affordable price. My favorite ones: Shida and Shilin night market.
Where to hang: Huashan Creative Park, Shangshan creative park,
nightlife: KOR, Revolver
What would you advise other HONeys that want to travel (and work) in Asia?
Get out of your comfort zone and take the risk! Asia is a very special place and is fairly safe to travel. Take your time and really explore each destination. Connect with the locals and expats to get insights on where to go, to avoid tourist traps. Travelling and working in Asia for digital nomads alike is not a problem as well as most of the countries have good 4G coverage and optic fibre internet, except for the Philippines and remote islands of Indonesia and Thailand.